If you were to happen to be looking at the names on the war memorial at Arbroath, you would be forgiven for not noticing the name of Miller, 2/Lieut Robert G. It's one name amongst many, and there is nothing in particular to make it stand out.

However, while we have been collating memorials for the Scottish war Memorials Project, we have encountered several individuals who were not specific to one particular town or loaction, and Robert G Miller is one of these men. He is a perfect example of how a combination of employment, education, and upbringing can influence how you can be commemorated across the length and breadth of the country.

Robert Gordon Miller (or Millar) was born on the 28th September 1883. A native of Arbroath, he attended the High School there before going on to St Andrews University, receiving an M.A. in 1913. He was assistant minister at Paisley Abbey and afterwards became minister of St. Mary's Parish Church, Dumfries.

When war broke out he enlisted, not as a chaplain like many other members of the clergy, but as a combatant. He was part of the 4th Battalion of the Argyll and Sutherland Highlanders, but was attached to their 11th Battalion. He was wounded in April 1917, and succumbed to his wounds in May. He is buried in Etaples Military Cemetery.

Millers occupation as a minister goes some way to explaining the number of commemorations on which he appears. As a native of Arbroath, he naturally appears on the town's memorial, and as a former pupil of the High School he is also commemorated there.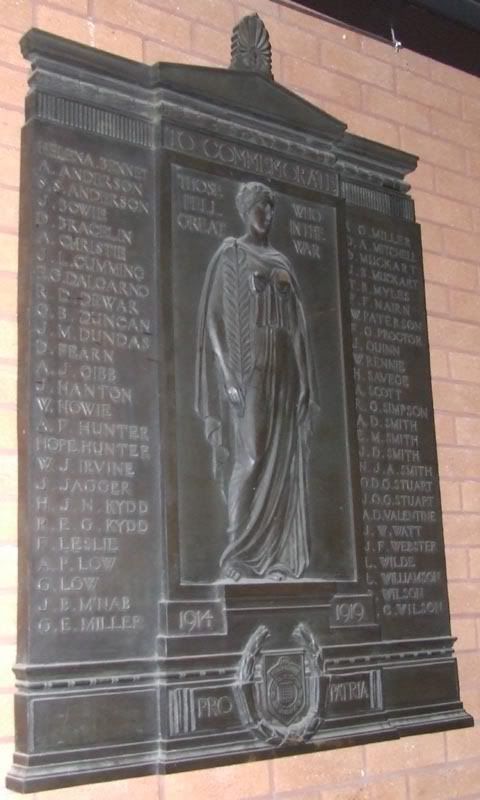 Arbroath High School memorial. Robert G Miller is the first name on the right-hand column.
As he attended St Andrews University he is commemorated on their memorial. The University also published a Roll of Honour - Miller is featured in it and the photograph of him at the top of this article originates from there.

The remaining memorials we have located to him all date from his time in the ministry - the memorial to Ministers, Probationers and Divinity Students which is located in St Giles' in Edinburgh lists him as an ordained minister serving as a combatant.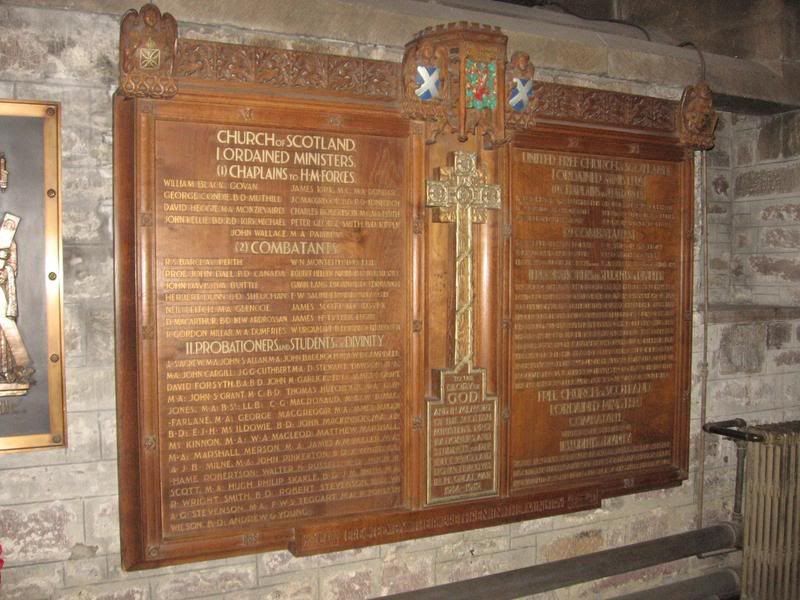 The memorial to Ministers, Probationers and Divinity Students
His time as assistant minister at Paisley Abbey may mean he is commemorated there - the main Paisley civic memorial lists no names and we do not at the moment have a list of the names on the Roll of Honour for Paisley. Nor do we have a memorial in Paisley Abbey - until we do, we can only assume he may be mentioned there.
There are two final memorials, and these result in three commemorations to Miller. How is that possible?
The two memorials in question are both located in St Mary's Church in Dumfries. The first is a plaque solely commemorating Miller.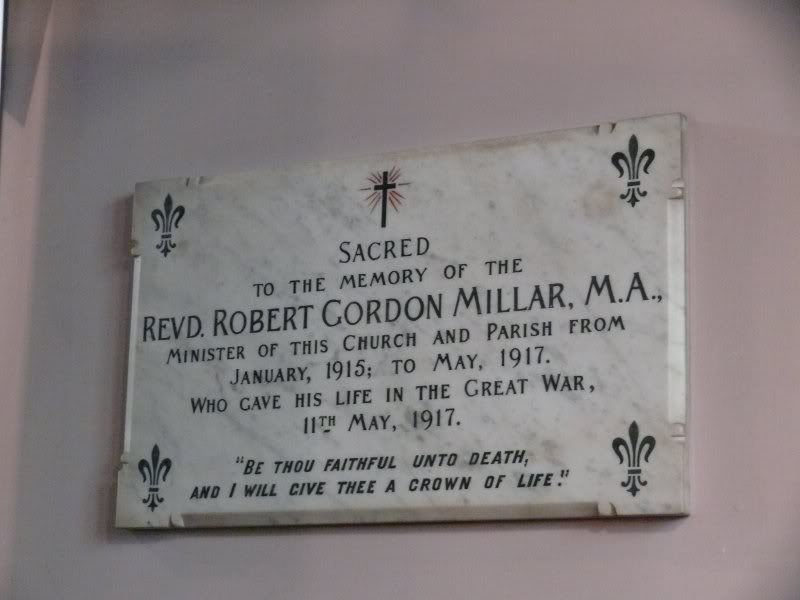 The final memorial is to the congregation of the church, and this is where the extra commemoration comes in: Miller is listed among the fallen of the congregation, but is singled out for special mention at the top of the memorial.

Why that was done we shall probably never know, but what is clear is that Robert Gordon Miller was clearly well thought of, both by the town of his birth and the town where he led a congregation. The number of commemorations certainly indicates that.

However, while Miller is certainly unusual in the number of commemorations, his is by no means the largest number to a single person in Scotland. That, though, will have to be a story for another time...