Although stained glass windows as war memorials are not something you come across every day, there are several tens, perhaps as many as a hundred or so such memorials in Scotland. It may come as a surprise that not all of these are in churches or former churches and some are not even in their original location.
Stained glass faces some particular problems when churches close or are modified, or the windows just deteriorate and need repair. Such windows are fragile, and only the exterior of the window is designed to be weatherproof, the interior of the window is likely to be painted so is not weatherproof like the outside. Most significantly the windows are designed to be seen from inside the building and rely on a supply of light from outside in order to be seen.
So what are the implications of this from a war memorial perspective? Well firstly the windows are very expensive to design and install and may therefore be quite valuable in their own right. Glasgow's open museum acquired a three light memorial window at a cost of £132,000! Should a window need repair and renovation, costs are likely to be many thousands of pounds. Finally if a window needs to be relocated for any reason such as demolition of the building, relocation costs are likely to be similarly large.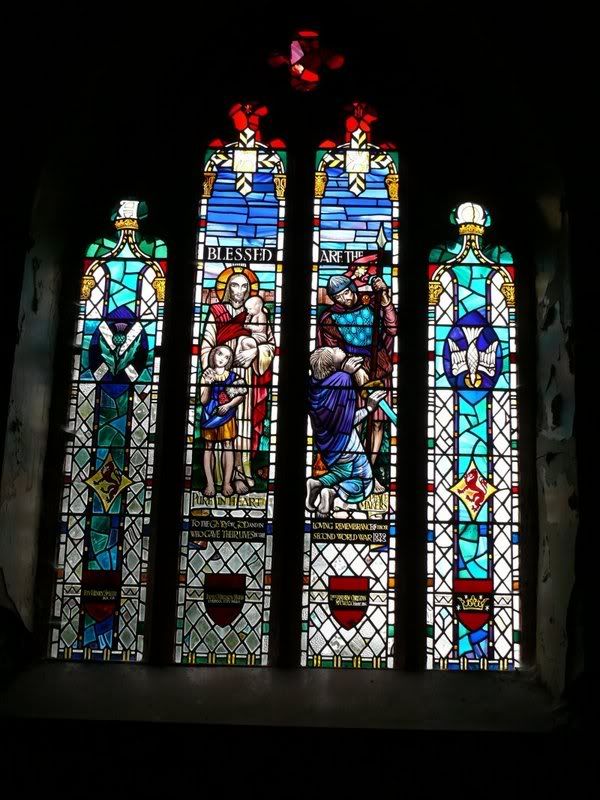 A fine example of how such memorials can be saved for the future is the WW2 memorial at Lochend Church, Beeswing, Dumfries and Galloway.
When the church was sold, the building was listed with special mention being made of the window and that it should not be obscured by internal structures or by blocking up, furthermore there was a covenant placed on the deeds to the effect that anyone who wishes to see the memorial must be allowed access providing they make an appointment with the occupier. A great result all around.
Another closure of a church (and its demolition) led to the move of a Boer War memorial window from St Ninian's school, Moffat to the nearby St John's church. It took a number of years to raise the funds needed to renovate and install the window which entailed demolition and rebuilding
of the entire end wall of the church!
Burnside parish church in Pollockshields had an even more impressive relocation when the whole church was moved to a new site 'brick by brick' including the stained glass window.
It does not all go well however; many years ago it was necessary to install an internal first floor in a church in Annan, this results in only being able to view the top half of the windows from upstairs and the bottom half from the ground floor.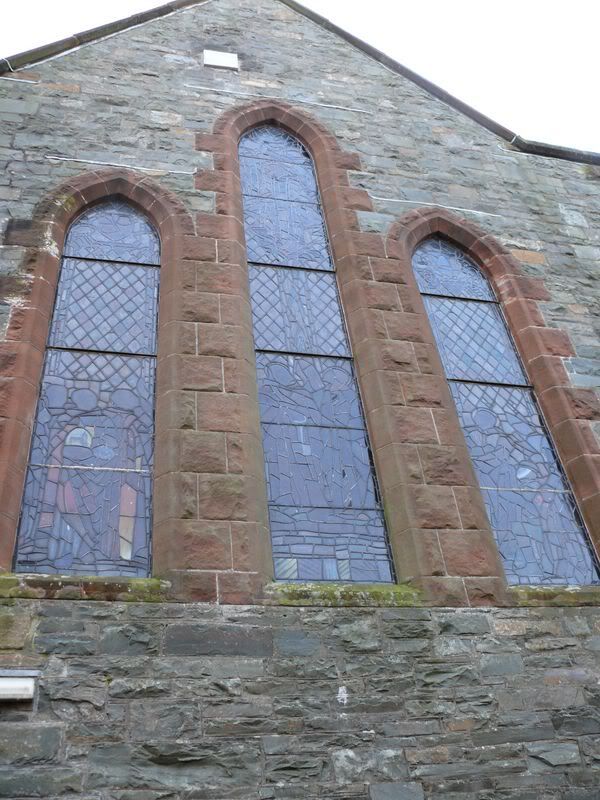 Sometimes there is no choice but to move the window and place it into a light box. If you have not seen one, this is a box which has internal lighting (preferably neon rather than bulbs) so that, when switched on, the window is illuminated – the whole must be indoors. Good examples are the windows which are now in Dunscore Church, Dumfries and Galloway and in Canongate Church, Edinburgh.
St Andrews church, Castle Douglas is now the Lochside Theatre and what is believed to be the war memorial window is now blocked up. Little detail can be seen and there is no photographic record but at least we believe it remains to be uncovered by perhaps some future generation who will hopefully recognise its value.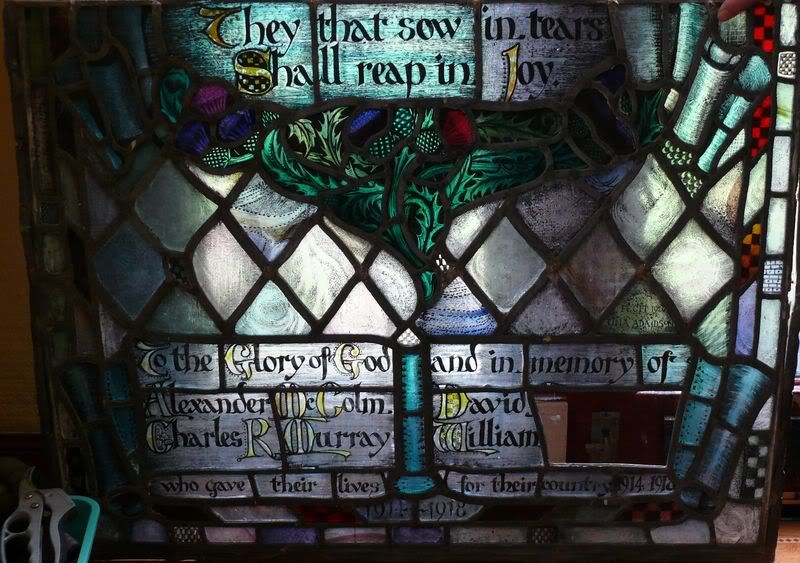 Finally a sad tale………. Tarff Church in Dumfries and Galloway had a pair of memorial windows when it closed. One of these is now believed lost and the other is stored under canvas as four panels by the present owner of the building, unfortunately a piece of the glass bearing two surnames is missing from this surviving window and its future is uncertain.
(Today's Blog was written by Paul Goodwin)